Glory Doughnuts continues to serve customer after customer on East Church Street in downtown Frederick with its unique menu: A variety of doughnuts and sandwiches, stuffed French toast, Pabst Blue Ribbon beer-infused waffles, oven-baked cast iron skillet pancakes. The offerings encompass a lot of traditional diner foods and comfort foods. But all of the items on the menu are vegan and contain no animal products whatsoever. No meat or diary, and not even honey, which makes it Frederick's first independent, locally-owned, vegan doughnut shop and breakfast spot.
"When we first opened Glory Doughnuts, we wanted to provide a neat little space for the community where you could get completely plant-based, vegan and vegetarian foods," said Alissa Straiter, co-owner of Glory Doughnuts. "We wanted to break the stigma of plant-based foods, and show people that they can actually be really delicious and super similar to everyday normal foods. It's no longer just silk tofu and hummus."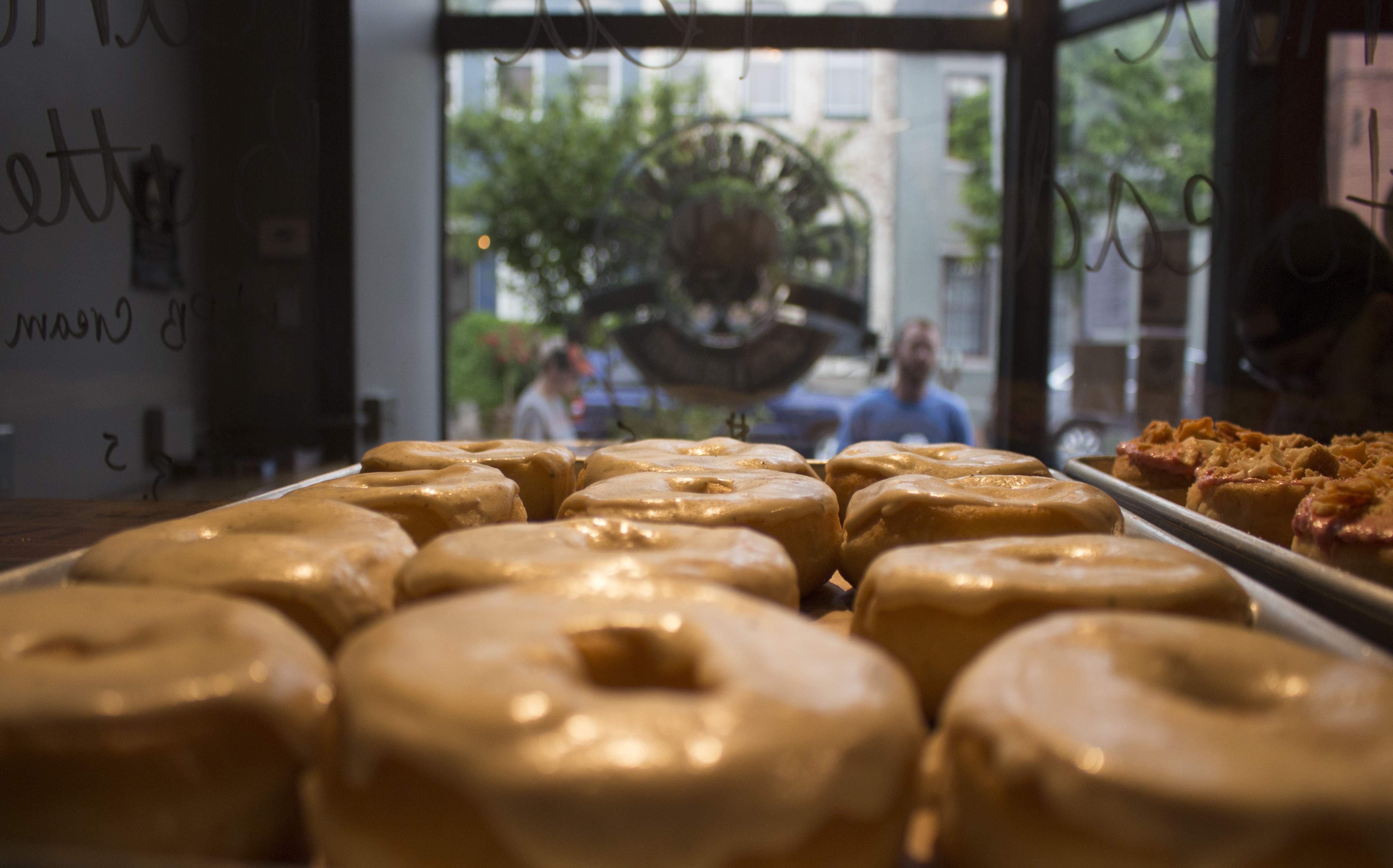 Breaking social stigmas about veganism and normalizing vegan food are part of Glory Doughnuts' mission, according to Allisa Straiter, who co-owns the shop with Keirsten Straiter.
"We try not to look at it like it's a veganized recipe, or a plant-based recipe, but like it's normal, regular food," Allisa Straiter continued. "It's real simple: Instead of dairy milk, we use almond milk, and all the other ingredients are pretty much the same. You'll be surprised by how many good old fashioned recipes you can easily switch over to make them completely plant-based."
While Glory Doughnuts continues to thrive, politely promoting veganism and vegetarianism is also important to the Straiters.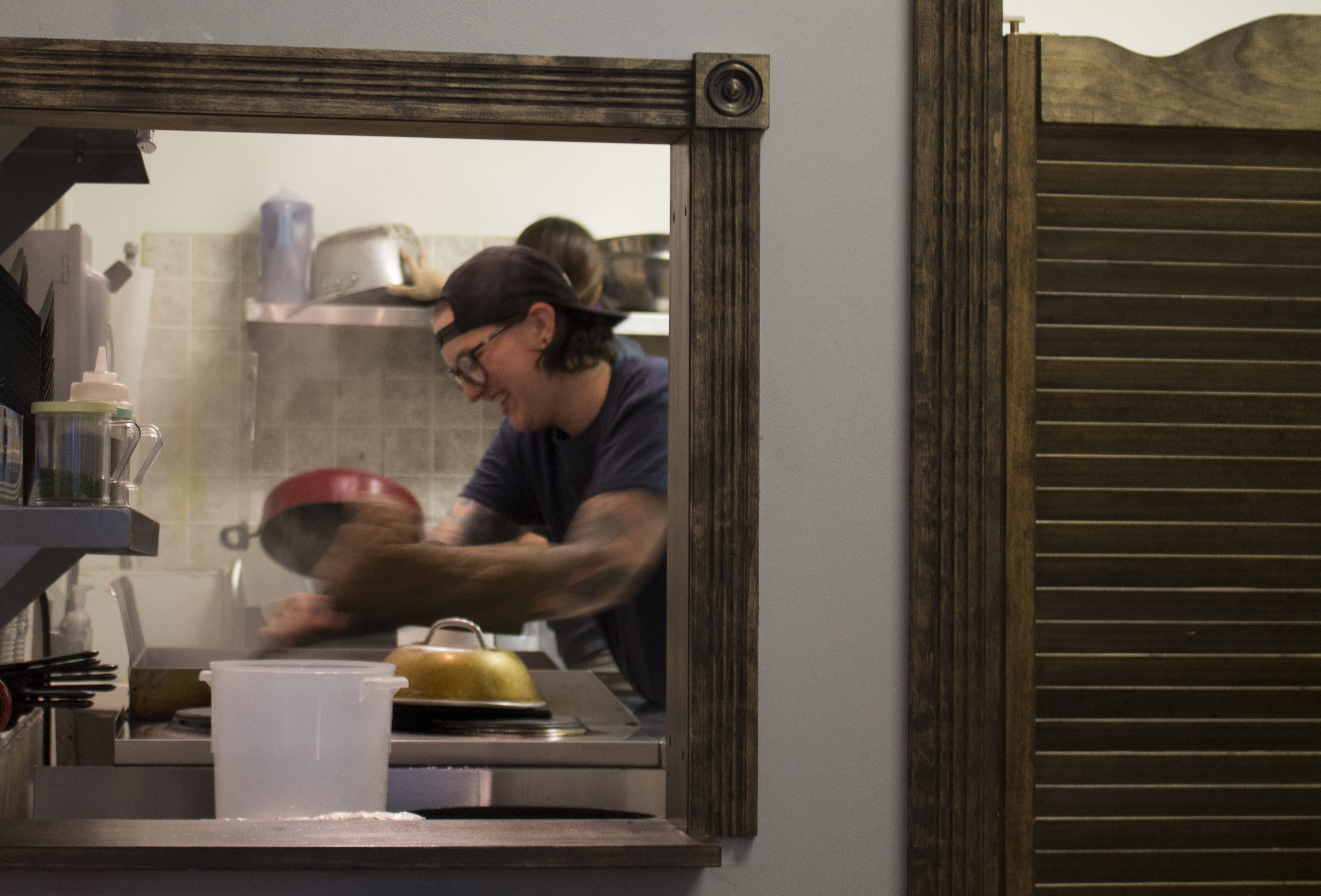 "Our mission always has been and always will be promoting veganism and vegetarianism in a not 'shove-it-down-your-throat,' not arrogant, or pushy way," Allisa Straiter said. "Our approach is really laissez faire. We use real words and real vocabulary to describe our dishes. A lot of vegan and vegetarian restaurants will say 'cheese' but spell it differently, or put 'milk' in quotation marks. We don't do anything like that on our menu. We say straight up buttermilk, cream, because to us, at the end of the day, that's exactly what this stuff is. It's the real food, it's the real deal. We're just using almond milk instead of milk or Earth balance butter instead of dairy butter.
"In that way, too, instead of shoving veganism down folks' throats, more people come in, more people try the food, and enjoy it and are opened up to the possibilities of delicious vegan food instead of the stereotypical blah, bland, tasteless vegan food."
The modus operandi has clicked with Frederick residents. Doughnuts sellout every day by noon, and on the weekends, lines often flow out the door.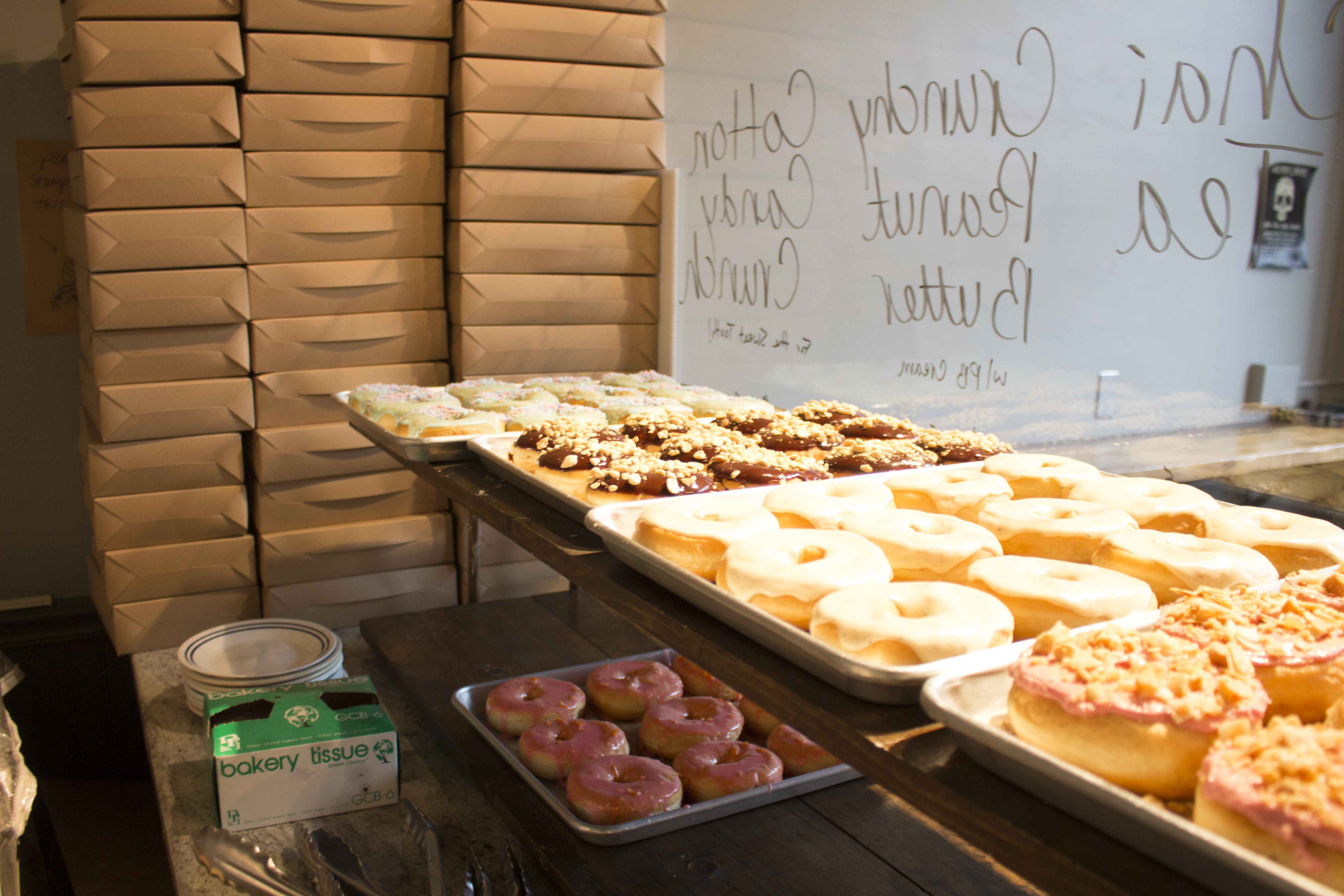 According to a 2006 study by the FDA, only 1.4 percent of Americans are vegan, therefore creating a business that only appeals to a narrow demographic could have been a risky move for Glory Doughnuts However, that could be one factor contributing to their success: vegans, especially vegans in Frederick and the surrounding areas, have been ready for a restaurant with not just limited vegan menu selections, but a vast array of meat-and dairy-free options.
One longtime Frederick local, Lauran Small, has been vegan for more than nine years.
"When we first went vegan, we ate at home a lot. … It was a big adjustment," she said. "Ten years ago, vegan options were super limited, unless you wanted a salad. These days, things are a lot better. Many restaurants offer vegan options or items that can easily be vegan-ized. There are even pizza places with vegan cheese. And we have a truly all vegan place now: Glory Doughnuts."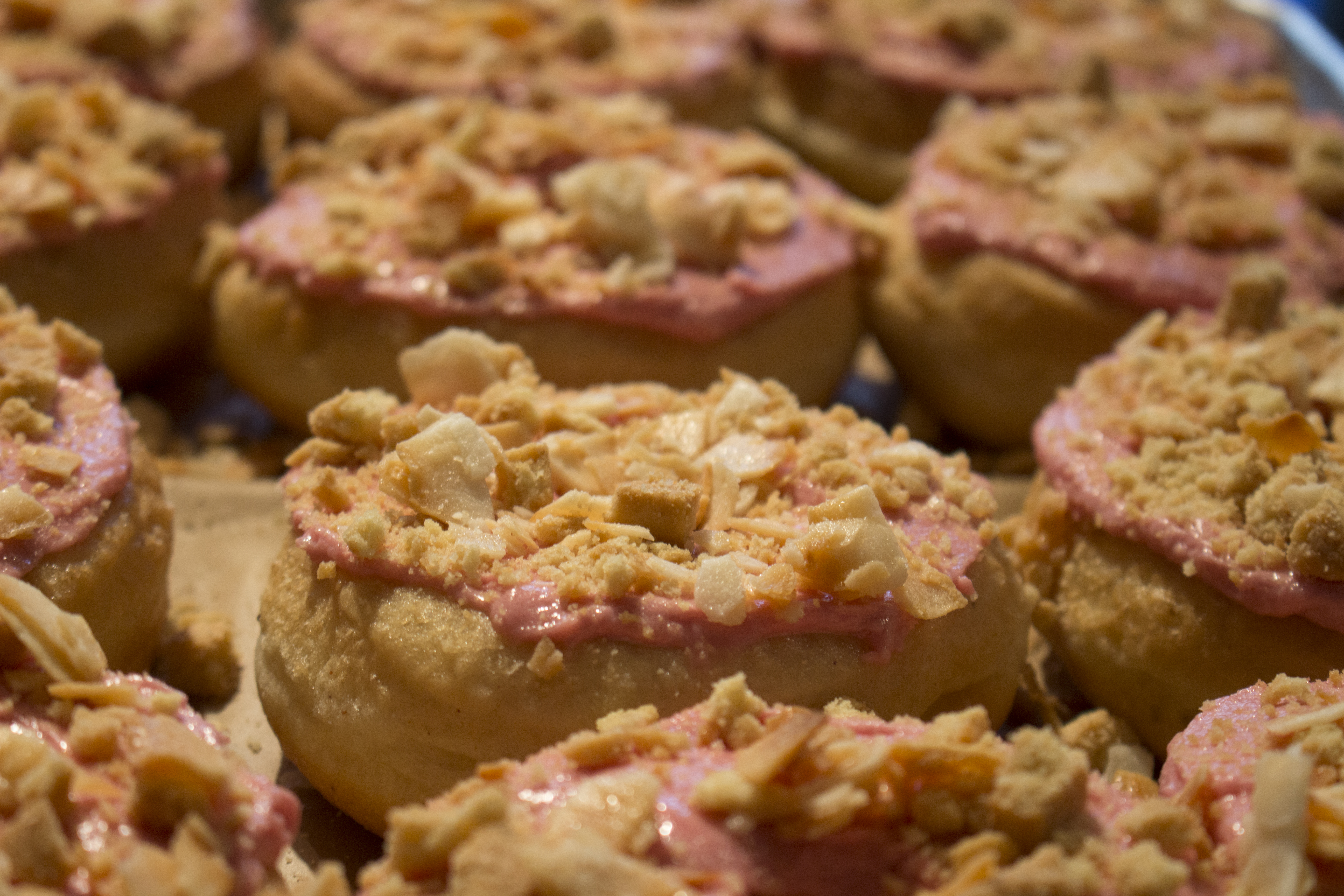 Lauren's husband, Steve Small, has been vegan for over nine years as well. The Smalls have been purchasing doughnuts from Glory Doughnuts since before the brick-and-mortar location existed. Back then, Glory Doughnuts was as a pop-up shop vending at The Farmers' Market and Café Nola, he said.
"We were so happy when they opened the restaurant and were able to expand to a full menu," Steve Small said. "Their food is amazing. Vegans don't just want salads and broccoli; we love good hearty comfort food like Glory Doughnuts has, too."
One strategy that seems to be working well for Glory Doughnuts is offering vegan options with more variety than vegans are used to seeing on menus. One stereotype about vegan food is it can't be indulgent or exciting. People expect salads to be vegan, but not necessarily doughnuts or decadent diner foods.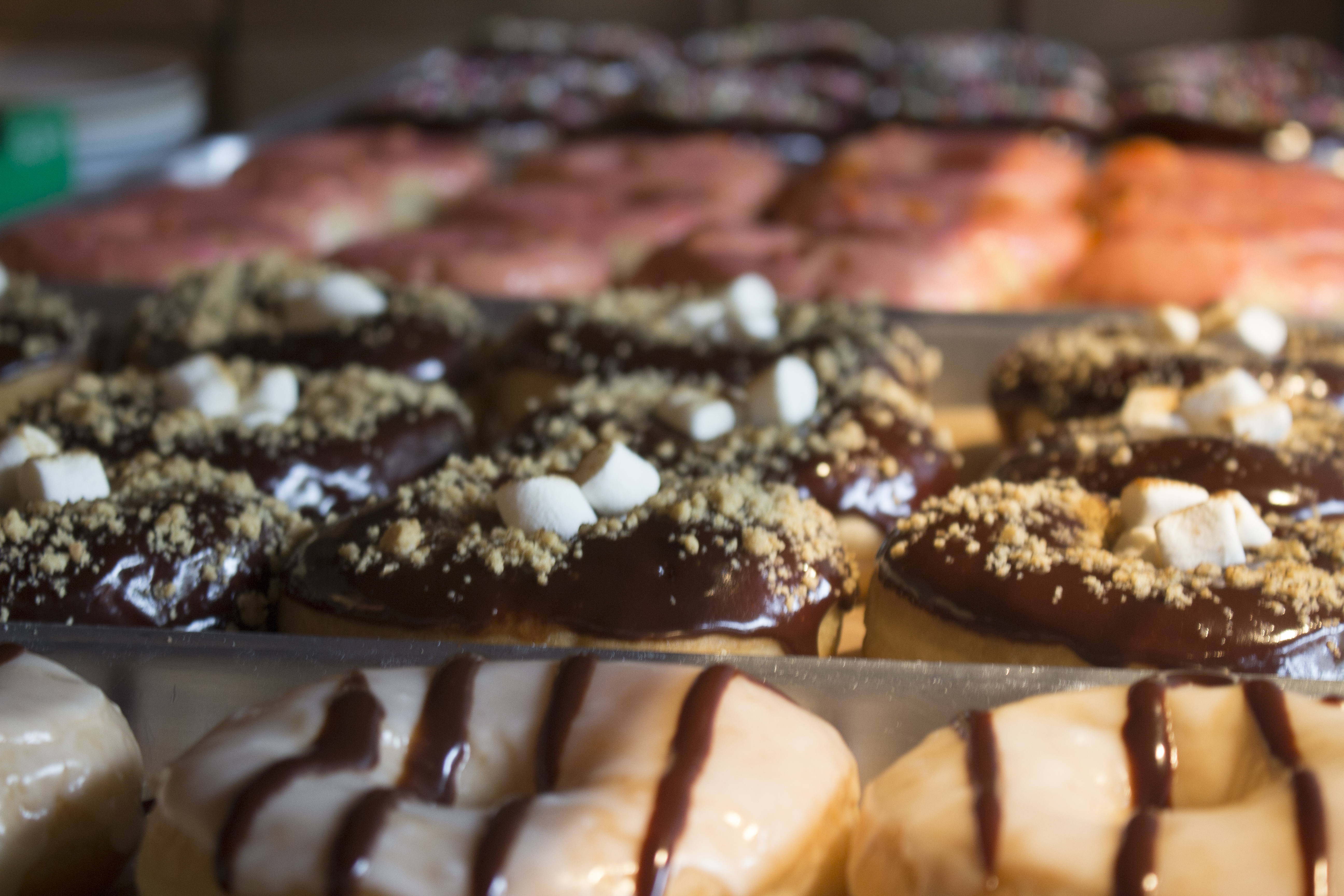 "When you see the crowds gathering outside waiting for [Glory Doughnuts] to open, and see license plates from other cities on the cars parked outside, you realize they have put Frederick on the vegan map," Steve Small said.
When asked to speculate the possible reasons for Glory Doughnuts' overwhelming success, co-owner Allisa Straiter said: "I think what sets us apart at Glory is that we have a story. Keirsten and I met when we were 19. I fell in love with her the second I saw her, and hopefully she'll say the same. This business is really built on love. And a lot of hard work, a lot of late nights. A lot of blood, sweat, and tears with a common goal. I remember right around when we started this business, I was at my then-job, and someone asked me what I wanted to do with my life. And immediately I looked at her and I said, 'I wanna make doughnuts with my wife. I want to feed people and make people happy.'"